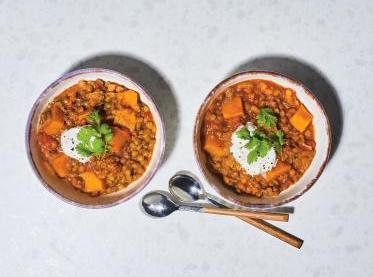 This is a recipe that I found from Ricardo Cuisine and I like to adjust to my taste so do you.
By: Ricardo Cuisine
https://www.ricardocuisine.com/en/recipes/8559-pressure-cooker-lentil-and-squash-curry

INGREDIENTS
Curry
2 cups (300 g) butternut squash, peeled, seeded and cubed
1 cup (200 g) green lentils, rinsed and drained
1/2 cup (95 g) red lentils, rinsed and drained
1 onion, chopped
1 jalapeño pepper, seeded and chopped
2 cups (500 ml) vegetable broth
1 can (14 oz/398 ml) diced tomatoes
1 can (14 oz/398 ml) coconut milk
1 tsp chili powder
1/4 tsp ground coriander
1/4 tsp ground cumin
1/4 tsp ground turmeric


Toppings
Plain yogurt
Cilantro leaves
PREPARATION
Curry
In the pressure cooker, combine all of the ingredients except for the toppings. Season with salt and pepper. Cover and select the Bean function. Set the machine to cook for 18 minutes.
Let the pressure release and remove the lid (see note). Mix well and adjust the seasoning.
Toppings
When ready to serve, garnish the curry with the yogurt and cilantro. Serve with the naan bread.

NOTE: We strongly recommend the manual pressure release. The automatic pressure release will overcook the squash.

As you know, you don't necessarily need to follow exactly the recipe but you can be inspired to do your own and without the pressure cooker as well.
It is up to you.

I would love to hear from you.
Have a wonderful tasty day,
Gaétane
Facebook Comments