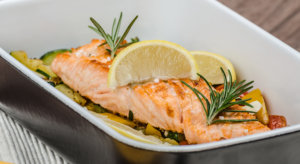 A wanted to share a great salmon recipe that I like to taste with some modifications that I do along the way to make it my own recipe,

By: Naturally Shaklee

Ingredients:

1 lb salmon fillet (cut into 4 pieces)
2 Tbsp chopped shallots
¼ C white wine or vermouth
2 Tbsp lite mayonnaise
2 Tbsp lite sour cream
2 tsp fresh lemon juice
2 tsp horseradish, freshly chopped or prepared, drained
2 tsp drained capers (optional)

Directions:

Preheat oven to 450 degrees F. Prepares a shallow roasting pan or baking dish with nonstick pan spray.

Place salmon fillets, skin side down in the pan. Sprinkle the shallots over the fish, pour wine evenly over all. Bake 6-8 minutes or just until the fish is opaque.

While fish is cooking, combine mayonnaise, sour cream, lemon juice, horseradish, and capers, if desired, into a small bowl and mix well.

Transfer the salmon and shallots to warm serving plates. Top each with a heaping tablespoon of horseradish mayonnaise.

Garnish with capers, if desired.

Enjoy your meal!
Servings: 4 Serving = 4 oz fish
Nutrition Information Per Serving: 257 calories, 3g carbohydrates, 30g protein, 11g fat, 185mg sodium, 86mg cholesterol, 0g fiber

Leave a message as you wish!

Have a wonderful day,
Gaétane
Facebook Comments