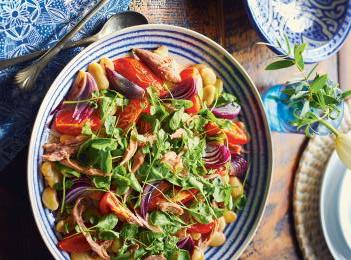 Sometimes, I like to try new recipes and I thought that you may like this recipe that I took from Ricardo cuisine I hope you will enjoy it.


Preparation 20 MIN
Cooking 30 MIN
Makes 8 appetizers or 4 mains
Ingredients
Salad
4 plum tomatoes, each cut into quarters
3 small red onions, each cut into 8 wedges
2 tbsp (30 ml) olive oil
1 can (19 oz/540 ml) lima beans, rinsed and drained 2 confit duck legs, the meat shredded
2 cups (60 g) watercress or torn chicory lettuce
Dressing
2 tbsp (30 ml) olive oil
1 tbsp (15 ml) balsamic vinegar 1/2 tsp (2.5 ml) honey
Preparation
Salad
1. With the rack in the middle position, preheat the oven to 400°F (200°C). Line a baking sheet with a silicone mat or parchment paper.
2. On the prepared sheet, toss the tomatoes and onions with the oil. Season with salt and pepper. Bake for 30 minutes or until the vegetables are tender. Be careful not to overcook as the tomatoes should maintain their shape. Let cool.
3. On a large serving platter, spread the lima beans in an even layer. Top with the tomatoes and onions.
4. In a bowl, toss the shredded duck confit with the watercress. Arrange the mixture in the centre of the salad.
Dressing
5. In a bowl, whisk together all the ingredients. Season with salt and pepper. Drizzle over the salad.

Please, leave a message and enjoy!

Have a wonderful week and Happy Mother's Day,
Gaétane
Facebook Comments