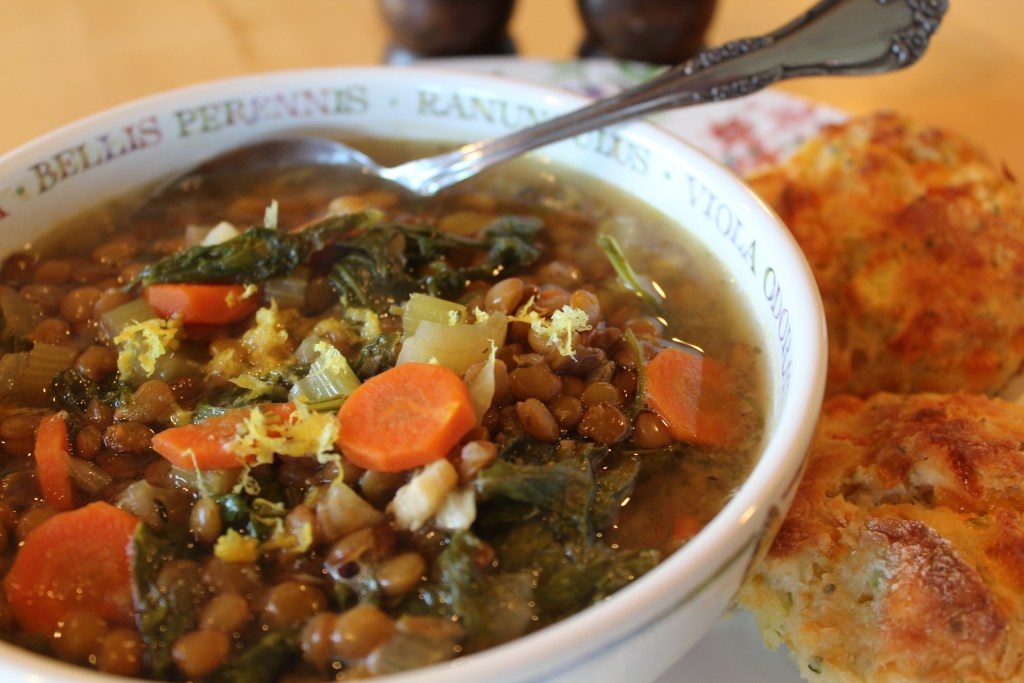 I love to search for new recipes and new ideas how to lentils etc. I found this recipe from Jennie Brouse.
Enjoy!
2 Tbs coconut oil
1 medium onion, peeled and chopped
4 cloves garlic, minced
8 cups chicken broth
2 medium carrots, sliced
3 stalks celery, sliced
2 cups lentils
1 Tbs dried basil
2 tsp dried thyme
1/2 tsp pepper
2 Tbs Bragg Liquid Amino' s
1 tsp garlic salt
8 cups chopped kale leaves
1/2 cup fresh lemon juice
1 Tbs finely grated lemon peel
Heat the oil in a large soup pot over medium-high heat. Cook the onions, stirring, until softened. Add the garlic, and continue cooking and stirring until the garlic is aromatic. Add the carrots and celery,  and cook another 5 minutes.
Add the broth, lentils, and seasoning. Bring to boil, then reduce heat to low. Cook, covered for about 25 minutes until vegetables are softened and the lentils are tender. Add the kale, and continue cooking for about 5 minutes. Stir in the lemon juice and peel. Serve warm.
In addition, you may want to add the vegetables that you have or remove something, it is up to you.
Servings: 8
Please, I would love to hear your comment or ask a question!
Gaétane
Facebook Comments